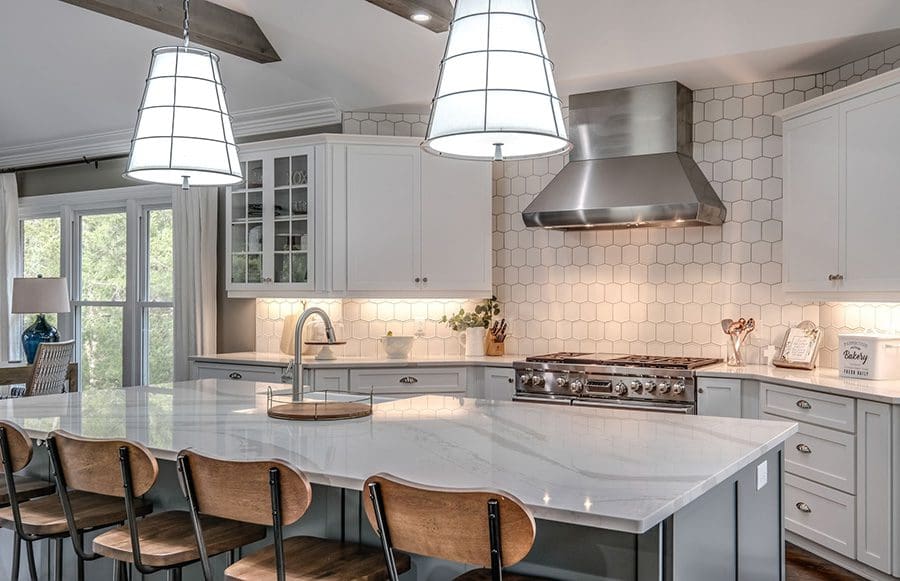 Are you planning a kitchen renovation? Maybe you're not sure where to start, or what style you want. First, think about how you utilize your kitchen space. Do you entertain often? Do you like to cook gourmet meals? Or do you just need a functional space to make simple meals? Once you analyze how you use your kitchen, you can start planning your renovation. Here are some ideas on how to get started on your new kitchen:  
Your Kitchen Layout  
There are several different layout options for your kitchen. Depending on the shape and size of your kitchen, some layouts will work better than others. Popular kitchen layouts include the galley kitchen, the "L" kitchen, or a straight kitchen if it's a tight space.   
Galley kitchens have cabinets, counters, and appliances along two parallel walls. This allows for more walking room in the middle and is ideal for kitchens in between two livable spaces like a dining area or a living room.   
The "L" kitchen usually has a wall or a half wall that juts out to make the bottom piece of an "L." Often the half wall is created with cabinetry and a bar countertop. The bar counter gives additional seating and a place to eat if you don't have space for a breakfast nook!   
A straight kitchen has everything up against one wall. This is ideal for small spaces typically found in apartments or smaller homes. Even with a small kitchen, you can still renovate it to make it look amazing. Smaller spaces can sometimes seem dark.  Brighten them up and make them feel bigger by utilizing light countertops and cabinets, light paint or backsplashes, and a window above the sink.  
Consult with an RSU professional to figure out the best layout for your kitchen and your family. Every home is different, so allow us to help!
Optimize Your Space 
Another thing to consider is the size of your kitchen and the features you will be able to include. If you want features like pantries or windows, then you'll need to consider those in your plan. Some plans include removing walls. Existing walls can be load-bearing, but it's possible to demolish them as long as you install a support beam. Your RSU Consultant can advise you about this.
Islands are a popular feature in many kitchen renovations. Island counters and countertops offer additional storage and space to prepare food and provide additional seating or an eat-in area. However, if the space is too small you may not be able to include an island. An alternative to an island is a cart with wheels! These are easily moveable and can be stowable when not in use.  
If you're a wine connoisseur, you may consider adding a bar space to your kitchen with a built-in wine fridge. For those who prefer beer, you can install a tap in your bar to keep the brews coming.   
Design of the Kitchen 
Take a look at different kitchen styles and design elements. Do you like the clean lines of a contemporary kitchen? Or the cozy feel of a traditional kitchen? Maybe you want something in between, like a transitional kitchen. Once you decide on a style, you can start picking out specific design elements, like cabinets, countertops, and appliances.
Now that you know the basics, you're ready to start planning your kitchen renovation. With your ideas and the help of RSU Contractors, you can create the kitchen of your dreams.