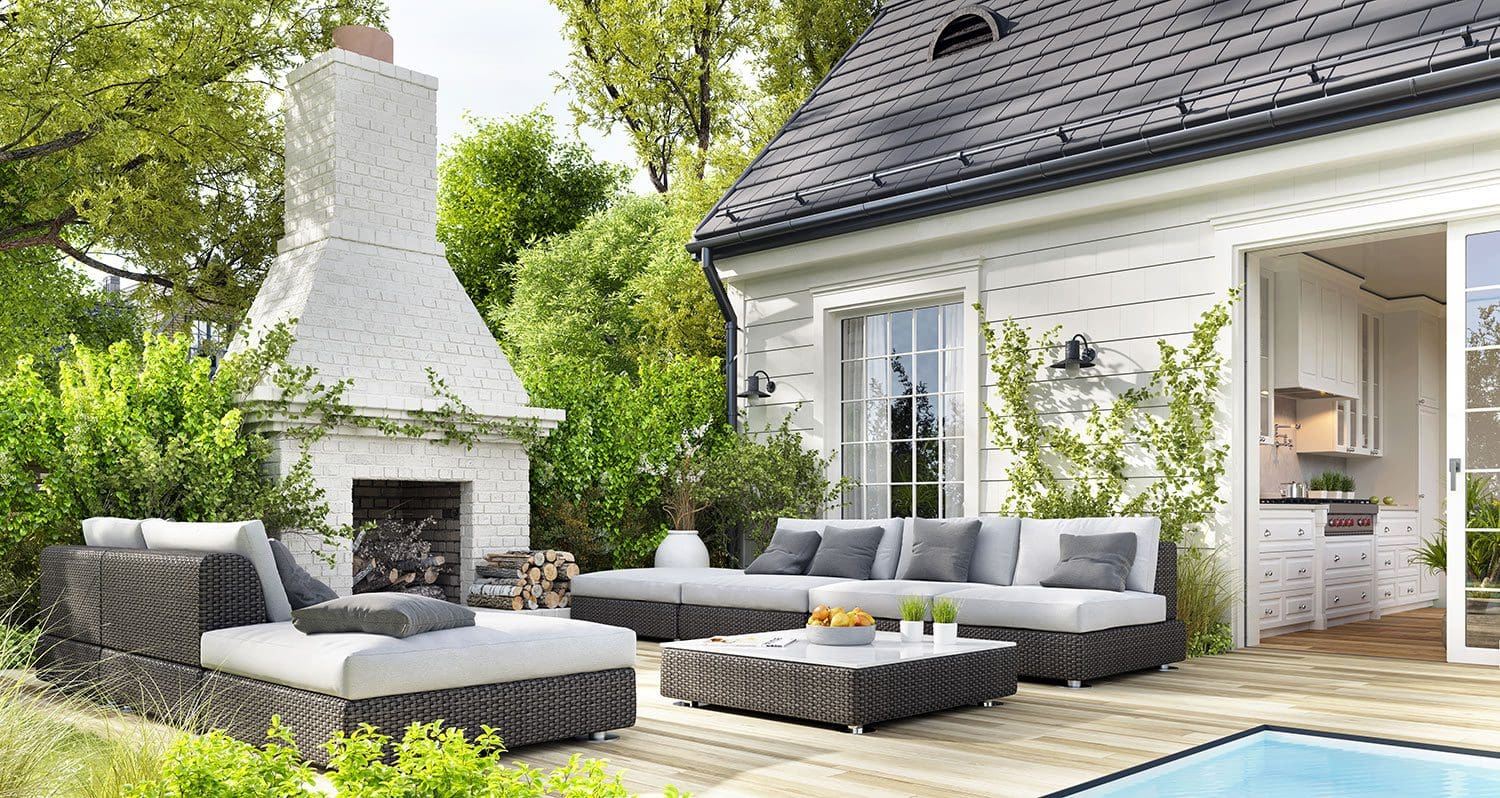 The Ancient Greeks believed that mankind became civilized when the god Prometheus stole fire from Olympus and brought it to Earth. Ever since these early times, fire has always been a symbol of humanity and culture. It brings life, warmth, and community. Fire has driven mankind for centuries and has been the spark to ignite countless technological advancements. Today, the modern fireplace evokes this same eternal warmth and source of life.  
In the Springtime, days grow temperate but nights often remain chilly. Whether you want to sit under the stars with your spouse after dinner, enjoy al fresco dining with friends, or any other backyard activity, having an outdoor fireplace is a must. 
In the early twentieth century, the hearth was considered a central focal point and designed to be both functional and fashionable. As central heating improved and became more widespread, fireplaces were often reduced to seasonal utility. Many homes may have fireplaces, but they are so outdated in aesthetic and energy efficiency that they are rarely used. However, the outdoor fireplace is an entirely different story. From a simple fire pit in the backyard to a higher-end fire pit, to a large, fully custom fireplace and built-in seating area, there is a wide variety of options for outdoor fireplaces. The more thought you put into your outdoor fireplace, the more benefit you will likely see from it. Your contractor is there to help you create an outdoor space with a fireplace that meets your needs and fits within your renovation budget.  
Here are three highly sought-after benefits to adding a custom fireplace to your outdoor living space.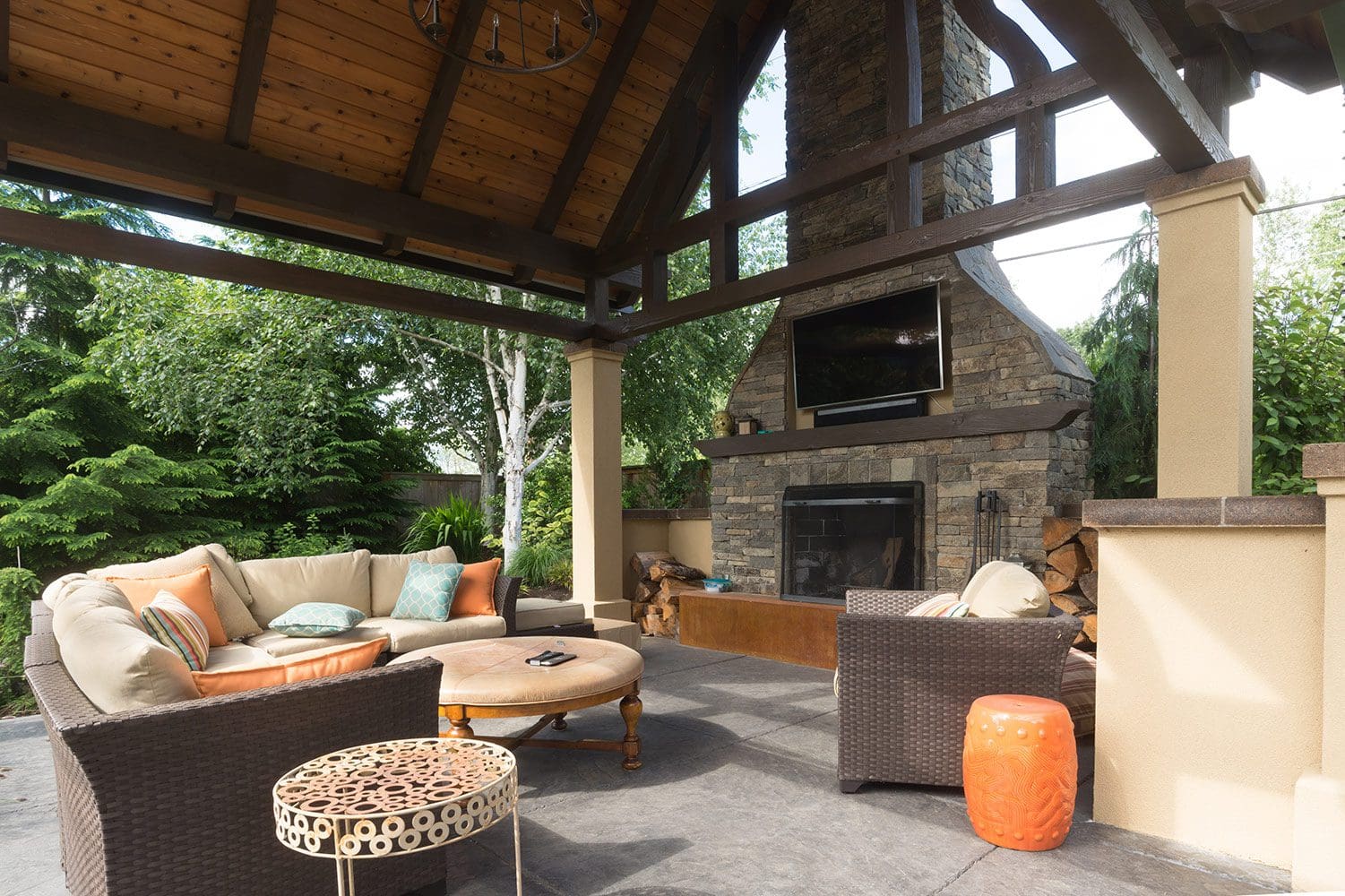 Variety
The options are endless when selecting the materials, look, and functionalities of your outdoor fireplace. The size and scale can be tailored to your backyard's size and your renovation budget. After selecting the materials, you also have the option to choose what source you would like to use for the fire itself, including gas, electric, wood burning, and flameless. Some homeowners like the rustic feeling of tossing freshly chopped wood into a fire, while others prefer the convenience of an electric fireplace. Some homeowners want a formidable stone fireplace to draw the eye, while others prefer the sleek, modern look of smokeless, colorful fire glass. The cost will also play into your choice. Depending on your renovation budget, an option such as gas burners for your firepit may not be achievable. Gas outdoor fireplaces are typically more expensive to run long term. However, they do burn cleaner than wood and are far less messy. It's truly all up to you: your budget and your lifestyle. By working side by side with you to bring your vision to life and stick to your outdoor renovation budget, RSU Contractors' team of experts will gladly assist you in the process of determining what kind of outdoor fireplace is right for you.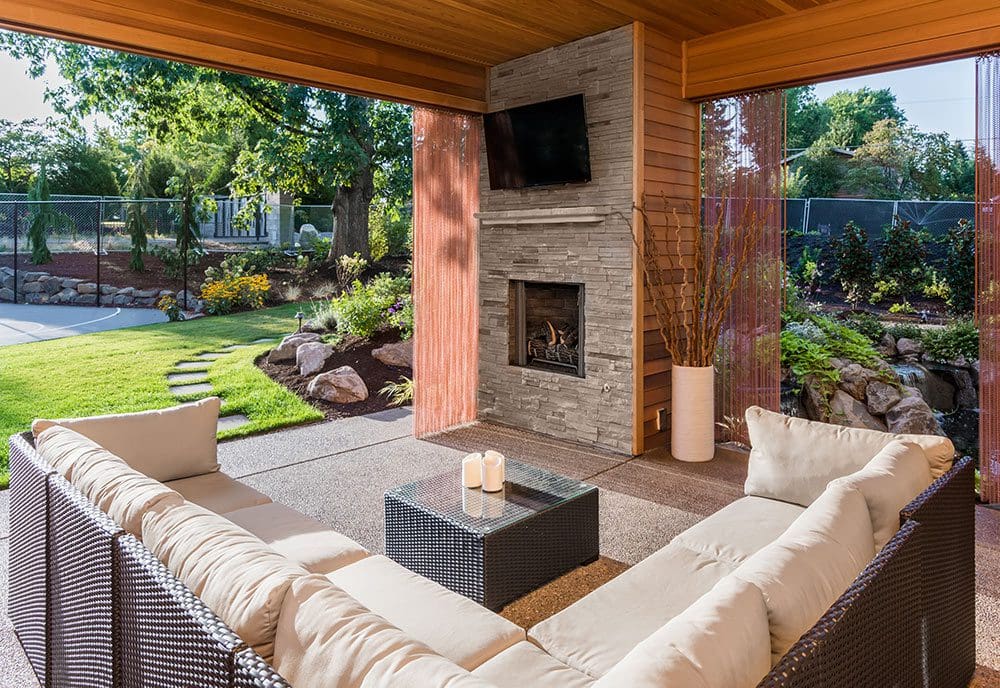 Functionality 
What is the purpose of your outdoor fireplace? Is it just there to look nice and provide warmth, or do you want to use it to cook? One of the premier benefits of having an outdoor fireplace is the ability to maximize your outdoor entertainment space with warmth. Your outdoor hearth can become the center point for your backyard or patio entertainment, since fire has always been a natural gathering point for humans. You may decide to add a grill to your outdoor fireplace if you truly love to entertain guests. If you're adding an element such as a grill to your fireplace, you will need to consider the functionality of where you place it. If you wish to have an outdoor dining space beside your combination fireplace and grill, your renovation may need to include this if you do not already have a suitable space. Even if you don't plan to cook outdoors, you should consider whether you want to use outdoor furniture as seating or incorporate built-in seating around your fireplace into your renovation. Outdoor fireplaces commonly raise your home's resale value, and for a future homeowner it may be more attractive to have the dining or seating arrangements already built-in rather than needing to purchase new outdoor furniture.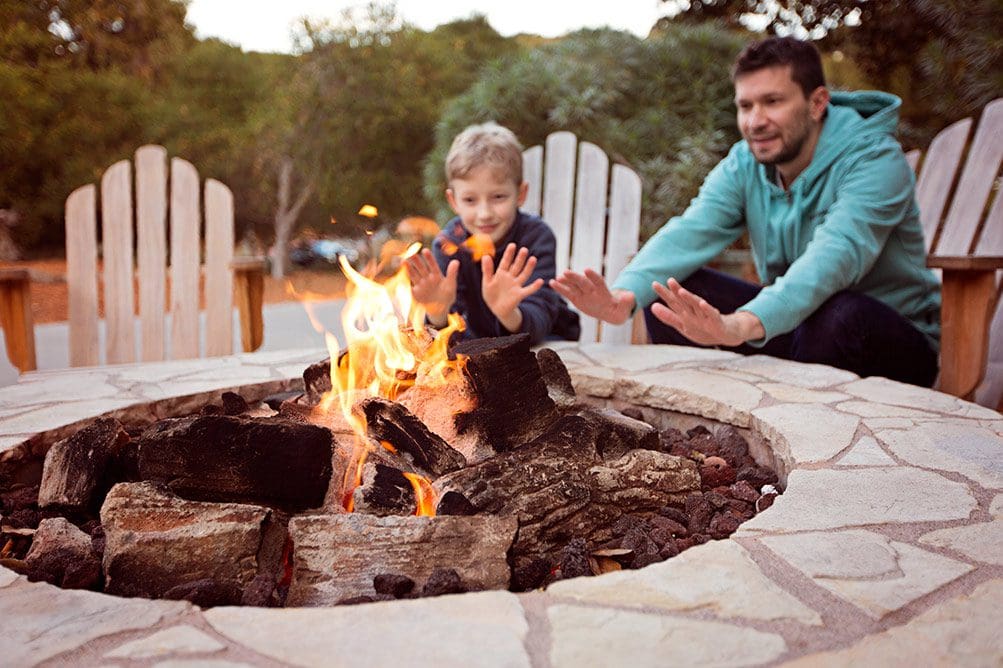 Nostalgia
The best memories are those made relaxing with loved ones. It is the times spent without the distractions of modern life that allow us to truly connect to each other. Fires also remind us of a world before technology and encourage all who surround the fire to take a pause. This nostalgia brings people together across generations for a special time to laugh and share stories around the fire. Fireplaces serve as a center point for family and friends to gather and celebrate, and we will keep coming back to the hearth as we look to foster these connections. RSU Contractors understands that your outdoor fireplace renovation is a special and deeply personal process. Their team has decades of knowledge and understands how to use your budget effectively to suit your needs. 
To speak with a professional about your outdoor fireplace renovation, contact RSU Contractors today at (615) 269-3906.