With the right design and plan, outdoor spaces can become extensions of your home. Offering fresh air, green space, and room to entertain, your outdoor space can be a valuable part of your home. Many homeowners think of outdoor living space as a nice patio with comfortable furniture and a fire pit or a cozy screened in porch, but it can be much more than this. Outdoor kitchens have risen in popularity, since many homeowners who love to entertain in their backyard do not wish to remain separate from guests while preparing food and drinks. Adding an outdoor kitchen to your existing outdoor space is an excellent renovation for those who wish to get more out of their outdoor living and entertaining space.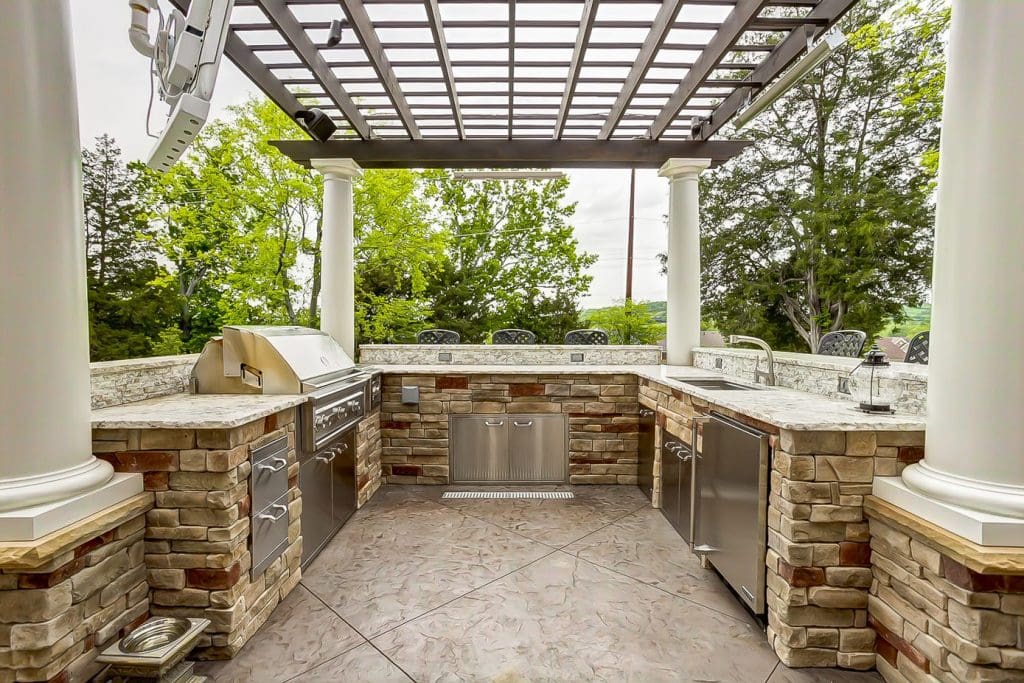 Outdoor kitchen in Brentwood, Tennessee by RSU Contractors
Why an Outdoor Kitchen? 
Outdoor kitchens enjoy popularity for a number of reasons. Outdoor entertaining is less formal than setting up your dining room inside the house. While you might have to worry about mosquitoes, you won't have to worry about stains on your tablecloth.  
The beautiful Middle Tennessee green foliage sets the background for the beautiful outdoor kitchen pictured above. This kitchen features all the appliances of an indoor kitchen plus plenty of bar seating. When planning smaller spaces such as this one, consider efficient layouts. The fixtures are neatly arranged yet still allow ample space for setting down platters, and there is plenty of room for guests to sit and move around. An outdoor kitchen like this one would be the perfect complement to a pool!  
How Do I Create an Outdoor Kitchen? 
If you're doing more than just adding a grill and outdoor dining table, we recommended you hire a contractor to build your outdoor kitchen. It could be part of an addition to your house or a separate structure like a cabana or pavilion, in which case you should be working with an architect or draftsman. At RSU Contractors, we work with architects and draftsmen and have consultants on staff to assist customers with the planning and implementation of an outdoor kitchen.  
All of the equipment in the Brentwood, TN outdoor kitchen above is underneath a pergola. You will want to determine whether your grilling station should be sheltered, like this one, or fully exposed. Take into account the weather in your area as well as the durability of the finishes and your equipment. Given the unpredictability of Middle Tennessee weather, most homeowners choose a covered option. 
What Is the Cost? 
Give yourself a budget of at least $30,000 for the simplest configuration. By the time you get the appliances that are right for you, hire an architect or draftsman, and get the permits to have the area built, you could have easily spent $15,000 to $25,000. That's before the general contractor even gets started with construction. 
How Long Will the Project Take? 
This project will take a fair amount of planning, organizing, and management. Give yourself at least three months for planning and then three more months until the kitchen is ready for the first party. If you'd like to have something ready for summer, you'll need to begin the process around December or January. 
Will I Need a Permit? 
Yes, you will more than likely need permits for this type of project. Obtaining permits involves an application process and inspections. RSU Contractors handles the permitting process for our clients, coordinating the application and inspection process to make for a more stress-free project for you.  
How Many Options Will I Have?
When planning your outdoor kitchen, consider how you want to use the space when deciding on options for appliances and other features. Outdoor kitchens are not as limited as you may expect and often have features such as under-counter refrigerators, sinks, freezers, ice makers, wine coolers, and storage cabinets. You can also include a larger grill and separate griddles or fryers. RSU Contractors Production Manager, Jim Walker, has a saying: "There's not three choices for anything anymore, there's three thousand." Organization is critical when you have this many elements. You want your arrangement to be convenient to use, with a good selection of equipment and enough space for you and your guests. RSU Contractors and our experienced team would be happy to help you design and build your outdoor kitchen!