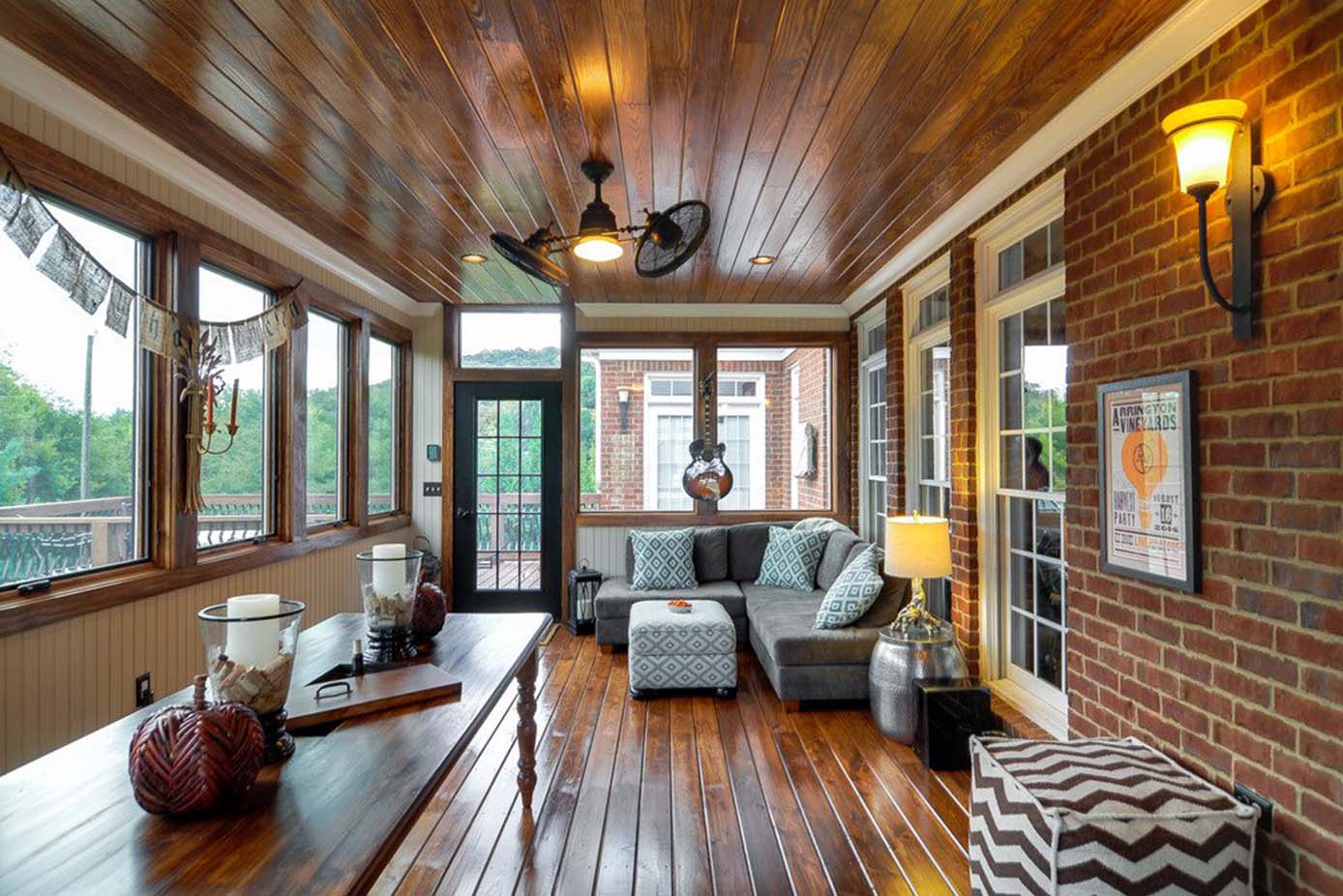 Living in Middle Tennessee, we know that temperatures can swing wildly, sometimes day to day. This type of climate really cuts back on outdoor-space use, and if you're a sunbather or love the outdoors, missing out for a large chunk of the year can be a major downer. There is one feature of a home, though, that is sure to bring more consistent happiness regardless of weather, and that is a sunroom. Adding a sunroom to your home does increase property values, but homeowners generally only recoup about half of the investment. There are other important reasons why so many choose this feature as an added highlight to their home, most significantly, improved quality of life. 
The most important function of your home – to actually live in it and enjoy it – should be the biggest driving force in making a renovation decision. A sunroom, screened in porch, or outdoor living area are all designed solely to improve your life. Homeowners should consider their local climate when choosing between different types of sunrooms, but ultimately, it's about what works best for their family and lifestyle. 
Sunroom
A sunroom provides a comfortable space to relax in year-round, without the worry of bugs or rain. In the summertime, it can be used as an extension to your living room area, doubling your seating and giving you a great view of the outdoors; and in cooler months, it can become a private sanctuary where you can read, take naps or just enjoy some peace and quiet. No matter what time of year it is, a sunroom will bring you joy by increasing your access to natural light – something that has been linked with increased happiness levels – and offering beautiful views of nature.  
Screened In Porch
If a sunroom is not for you, consider adding a screened in porch onto your home. A screened in porch also increases property value, although it has generally lower ROI than sunrooms. However, for homeowners who wish to enjoy relaxing in a covered area but still feel the breeze and hear the birds sing, a screened in porch is a better choice over a sunroom. It can be added to an existing deck or patio or built as part of a larger scale backyard renovation that includes building a patio or deck.  
Outdoor Living Space
An outdoor living area is typically established on your patio and may or may not have overhead covering. You could create a covered patio underneath your deck or a large open-air patio that extends into your backyard. Your outdoor living space can include features such as a kitchenette, fireplace, TV area and more which make it the perfect spot for hosting get-togethers with friends and family. There are a number of benefits to having an outdoor living space. The obvious benefit is that you can use it during all four seasons. In the warmer months, it's the perfect spot to relax and enjoy the sun and in the cooler months, you can cozy up by the fire. If you have young children, an outdoor living area is a safe place for them to play without having to worry about traffic or other dangers. 
Reach Out to RSU Contractors Today
Space to enjoy the outdoors at home – whether it be a sunroom, screened in porch, or patio – is beneficial for many reasons. It all starts with having a good renovations contractor on board from the beginning who knows how to create a beautiful, well-constructed space that will help perfectly blend your new renovation into your existing home. Now is the ideal time to reach out to a trustworthy contractor like RSU Contractors so that when warm weather arrives, you will be all set to enjoy your new sunroom, screened in porch, or outdoor living space. Call us at 615-269-3906 to get started.